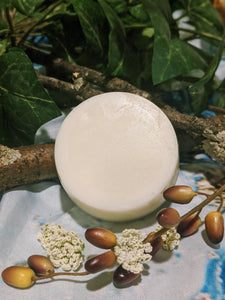 Conditioner bars are the perfect way to make traveling simpler and reduce plastic waste! These bars are enriched with nourishing coconut oil and cocoa butter and hydrating glycerin to moisturize your hair, leaving it shiny and soft.  Conditioner bars are great for all types of hair and so easy to use. Simply swipe the bar across your shampooed hair once or twice for light conditioning, or several times for deeper conditioning. 
Long lasting and great for travel!
Fragrance has notes of mandarin, neroli, orange blossom intertwined with vanilla. This scent is tropical, fresh, and fun.
Ingredients: Natural Hair Conditioner Flakes, Cocoa Butter, Coconut Oil, Stearic Acid, Liquid Glycerin, Fragrance, Paraben Free Preservative